TurboDoc Remote Support Setup:
From the Owners Area in TurboDoc, download the TurboDoc Remote Support installation program.
Install the TurboDoc Remote Support program. This will create an ICON on your Desktop that looks like the following.

Click on this ICON to run the TurboDoc Remote Support program. The following small program window will open on your computer screen.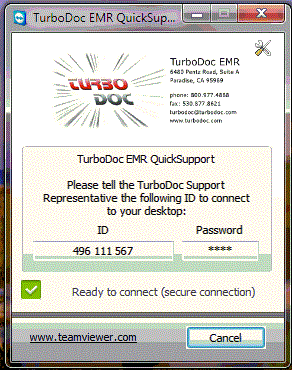 You screen will show a unique ID number. (Different ID number than the one displayed here.)
This ID number is required by the TurboDoc Support Staff in order to access and control your computer. Email your ID number shown on your computer screen to
Support@turbodoc.com
.
You may minimize the Remote Support program but do not close or stop this program or turn off this computer until the TurboDoc Remote Support staff have been able to access your computer.
This is the current system used for Remote Technical Support, replacing the Cross-Loop option.